Blue-Green Algae Supplements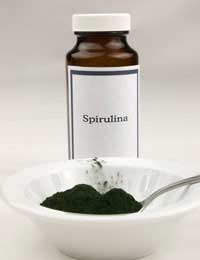 Like other plant life algae contain chlorophyll which is used to convert light energy into food with the addition of being found in and around water sources, causing them to be called algae.
What Is Blue-Green Algae?
Green algae are part of the normal algae found in most aquatic environments. As the name suggests, it is the type of algae that is green is colour due to the pigmentation and presence of chlorophyll.It is found in plentiful supply call over the world and is a naturally occurring product.
How Does It Act As A Performance Enhancer?
Blue-green algae is now commonly known to be a 'superfood' due to its supposed high content of readily available vitamins, minerals and amino acids. It has been heavily marketed as such, though there are some groups of people who believe this is just a con and a way of making money and that this product is nothing more than simple pond products with no such benefits. As there have been no official scientific research projects conducted concerning the health benefits of this product, there is no way of knowing which argument has the most credentials.
If it does contain these high levels of vitamins, minerals and amino acids, then it definitely plays an important role in the functioning brain as these substances are essential for the production, manufacture and maintenance of the nerve cells within the brain tissue.Not only useful for improving and enhancing the function of the brain, it is also believed to be excellent for increasing immunity and reducing inflammation which can both have seriously detrimental effects on health in general.As it is not a regular feature in a western diet, it is best consumed as a supplementary product.
Where Can Blue-Green Algae Supplements Be Found?
These products are available in health food shops, some specialist retailers, pharmacies and from manufacturers on the internet.The products can be purchased in liquid, powder or tablet form. Different manufacturers harvest and store the produce in a variety of ways and it is not known exactly which method maintains the product at its best, though freeze drying seems to be the favoured option.For most people the vitamins and minerals found in the product can also be found in other fruits and vegetables so a healthy and balanced diet should provide all the vitamins and minerals needed to maintain a healthy brain and those who are wanting to improve their brain may find better results from exercising and testing the brain in other ways.
Blue-green algae has been used for many years as a way of ensuring a diet high in essential substances required for healthy tissues. Many manufacturers claim it can help boost brain power and aid the body in other ways, but without official scientific evidence it is difficult to support this argument.Statistics have not conclusively proved that the product is damaging to health, though due to the places in which it is found may contain high levels of metallic elements, or that it carries any side-effects as again this hasn't been formally tested, but may an expensive purchase if it has no actual benefits.
You might also like...