Cognitive Enhancers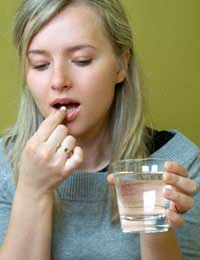 Cognitive enhancers are products designed to help improve brain function.There are many reasons why someone may want to take a cognitive enhancer and may be used temporarily or for longer term use. Scientists now believe that in the future, people will be using these items on a regular basis and may be easily available to everyone.
What Are Cognitive Enhancers?
Cognitive enhancers, also known as 'boosters', 'brain pills' or 'smart drugs' are pills that are being taken to help people improve the overall function of their brain.Scientists have developed many products over the years to help in the treatment of illnesses such as Alzheimer's and narcolepsy, and the drugs used for these illnesses are now being used, often illegally to help memory function and delay the effects of ageing.
Drugs used in the treatment of ADHD have also recently become increasingly popular as the illness is becoming more and more diagnosed. Those around people receiving drugs such as Ritalin, see their benefits and are using them to boost their function drawing on their stimulating effects.
It is not only these products that are being used, many pharmacies and health food shops now stock a vast range of brain pills, many based on fish oils as these are known to help improve cognitive development and brain function.These drugs are safe to use in the presence of these illnesses and under a doctor's guidance, but their effect on a healthy brain that is not diseased has not been researched and people may be putting them selves in danger.
Who Uses Cognitive Enhancers?
There are many groups of people who use these products to help improve their brain power with students being one of the most likely categories. Research has shown that a lot of students are regularly using enhancers to help them study, retain information, be more productive and use their time better whilst they prepare and revise for exams and coursework.
Hectic timetables and the increased need to remain financially stable whilst studying means that many students find they have less and less time for study. Many are using the enhancers to help keep them alert and awake for more hours during the day in order to spend time studying.
At the moment there are no testing methods for people who take these substances but if the numbers of people using them continue to increase, the government has suggested that in the future, schools, academic institutes and even the workplace may have testing methods in place to discover if students or employees are using these drugs to help improve their performance. It also has been suggested whether it is actually unethical to allow people to use these drugs to improve performance or whether it should be up to the individual's own choice as to whether they use them or not.
Pharmaceutical companies may indeed, try and research and manufacture similar products targeted at individuals who wish to improve their cerebral function and produce drugs that have been deemed safe and ethical to use.
At the moment, most of the drugs used to improve brain power are purchased on the internet or by using false and illegal prescriptions which is entirely unsafe.Buying any sort of drugs over the internet can be risky and the purchaser is not guaranteed to be receiving the drug they think they are buying and may be consuming something even more dangerous such as salt tablets which can be very dangerous.Always speak to your doctor if you are worried your brain function and memory are decreasing as there may be a genuine and just reason diagnosis for this.
Cognitive enhancers are becoming increasingly popular in the academic world as people are becoming more competitive and have growing workloads to contend with. The use of these drugs does seem to have many benefits, but their ethical use and the long term safety aspects of using them have yet to be determined.
You might also like...
Do cognitive enhancers have any side effects? I think they should be Legalized to enhance most people to attain their cognitive capabilities and this would lead to a more developed world.
Fujoz
- 20-Mar-13 @ 2:40 PM