What is Free-Association?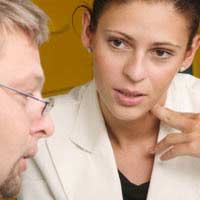 What Is Free-Association?
Free-association is a psychological term that was developed by the world famous Sigmund Freud and was used to help patients who had buried memories deep in their mind as a way of protecting themselves. The technique aimed to slowly unravel these feelings and memories and eventually lead the person to be able to remember them without necessarily being conscious of doing so.
Free-association requires the person to vocalise a string of words of any type that initially appear to be unrelated. Sometimes these words can seem totally irrelevant and meaningless but the aim is that by vocalising a chain of words, eventually the person will be more able to unearth the deep memories.
Can I Learn Free-Association?
Free-association is not something that the person especially has to learn as it is more aimed at the person initiating the chain of events to lead the session. However, when the technique is used for other reasons than helping psychologically troubled people, it may be useful for re-organising thoughts and allowing thought processes to clarify more easily.
How Can Free-Association Help Solve Problems?
Sometimes when we are faced with a problem that is proving very difficult to work out, or even if the question itself is proving too difficult to decipher, our thoughts can become very jumbled. Often we spend so much time thinking about the problem that we get overwhelmed and feel defeated especially if we can't even figure out exactly what the question means or involves. Free-association can provide a method of being able to de-clutter the mind and re-organise our thoughts until we feel calmer and more able to tackle the question in hand and show a greater level of performance.
It can also help if it is adapted slightly and we permit ourselves to write down any words that are connected with the subject matter even if they seem irrelevant. Once a list has been compiled you may find that there are more words connected with the subject than we had thought when performing the technique. Even if this doesn't occur, by letting out useless thoughts and energy, we may be more able to 'see the wood for the trees' and figure out exactly what we must do to answer the question.
Using free-association in the creative problem solving arena may also prove to be useful for opening up new possibilities and alternative ways of approaching the problem. It can find new ways of approaching problems that haven't been thought of before. This can be especially useful for those in the design and invention field and it may be possible to find innovative ways of developing new ways of approaching already existing issues.
Free-association was first thought of many years ago and was a way of helping people with painful or hidden emotions, thoughts or memories. It is now used as a way of enhancing performance by creating new ideas or helping people understand or make sense of difficult problems that they may face both personally and professionally.Sometimes problems can seem immensely difficult to de-tangle but using free-association can help to clarify the issue and make it seem more logical and approachable and enhance your performance in work and life.
You might also like...