Making Comparisons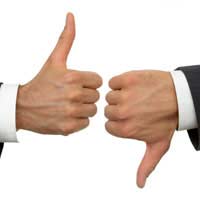 Making Comparisons
In order to improve yourself or make improvements to your work, it is sometimes necessary to make comparisons, especially if you are testing one thing against another or against several others. This can be difficult if you are unfamiliar with the concept, but with practice it becomes easier and after a time it will probably be done automatically.
Most people make comparisons on a daily basis without even realising it whether it be comparing one television programme to another, comparing your appearance to that of another or even judging the size and shape of things. We are not usually consciously making these comparisons but they exist to help us make choices and judgements about the world around us.
How Does Making Comparisons Help Improve Problem-Solving Skills?
When a problem needs solving, whether it has one possible answer or more, making realistic comparisons can help us make the best or correct decision. If there are several variables or possibilities, making a comparison will assist in deciding which answer or solution is the most suitable.
It is important to decide and document what it is exactly that you want to compare as if there are no set comparables the decision making process can take a very long time and may not be as easily achievable as it could be with set factors.
Things To Consider When Making A Comparison
There are several questions one can ask when making a comparison and these can include but are not limited to the following:
Is one option more cost-effective than the others?
Do any of the comparables cause harm to anyone or their environment?
Is one option more aesthetically pleasing than the others?
Is one easier to achieve?
Which takes the longest to achieve?
Does one fit the set out criteria more than the other comparables?
Having specific questions such as this may only be useful in certain situations, but it is possible to set out a list of relevant and related questions before you begin comparing that can be applied to all or most scenarios.Sometimes it may help if you collate all your results and award each answer with a score of some sort with the highest scores being given to those that answer the question in the best way; you will probably be able to devise your own scoring system.
What Else May Help Problem-Solve?
One of the easiest ways to problem solve is to ask yourself a list of associated questions and see if you can answer them. This may be comprised of a simple question and answer list or may be carried out after a pro's and con's list has been drawn up. Of course this type of assistance does not work when only one possible answer is expected when other methods of finding help may be needed.
Making comparisons can be a very effective way of problem-solving but there are some recommended ways of doing it. Not all problems can be solved using these methods but they can be very effective, and over time improve your problem-solving performance in general, especially if there are several possible answers for the given situation.
You might also like...