Performance Enhancers And Children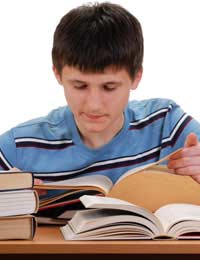 In today's fast paced world that is highly competitive, parents and children alike, are trying to find new ways of realising potential and maximising opportunities. Some people argue that this putting too much pressure on the young and will cause high levels of stress and anxiety, whereas others believe it is necessary to harness the skills and learning potential of children and prepare them for a successful adult life.The use of performance enhancers in children can be related to both physical performance and academic skills.
Physical Performance Enhancers.
There are several safe ways in which a parent and child can improve their physical performance without using drugs, substances or other 'quick fix' solutions offered by many manufacturers, often found on the internet.As a parent, education about diet and nutrition is essential in modern society, more so if we want to encourage a healthy mind and body.
As long as it is addressed in a healthy way as part of a balanced lifestyle, children will not be harmed by understanding that practice and exercise are the most reliable and safest methods of improving ones abilities, and that by repeating the activity under the supervision of a teacher or expert, they can perfect their sport and become successful that way.There is however, evidence that due to the increase in pressure to excel and achieve immediate and high levels of results, that children are now feeling pressured into using substances, often illegally to enhance their performance.
Schools, colleges and universities should be discouraging this at every opportunity, but some people argue that some institutions 'turn a blind eye' as they are achieving good results.Many commercial companies make drinks and shakes that can help improve physical health and ability, but these are most often designed for the adult body and should be taken with caution in the young.
Improving Academic Ability.
Like sports, there is more pressure than ever to be a high achiever and be successful academically. Every parent wants to see their child do well and become successful, but only if it does not encroach too much on their overall happiness and become an obsession. Humans being all have different talents and strengths which are not always academic subjects, and we as responsible adults should be able to guide and help the child realise their own limits and potential. With parental help and input from teachers, children should be able to reach a balance of academia, cultural awareness and physical activity that is right for them. For some people however, the pressure to succeed forces them to turn to unnatural methods of accomplishing their achievements.
Research has proved that fish oils, especially omega-3, are a great way of improving the brains capacity and function. It should be noted however, that experts advised that oily fish should only be consumed in moderation in the young due to the increased risk of poisoning from other substances found in the flesh of the fish. For this reason, it is safe in this instance to use a supplementary variety in addition to a well balanced diet.
Children should be aware from an early age about the benefits of a healthy diet, and education of the role of vitamins and minerals will help them to understand how these substances work within the body.For many children however, the use of performance enhancers is actually a good option. Those who suffer from ADHD or similar can benefit hugely from using drugs such as Ritalin, though this is something that should be discussed with your doctor or specialist and only taken as advised and prescribed.
The use of performance enhancers in children can be beneficial if the right tactics and usages are employed. The use of substances, unless directed by a physician should be strictly prohibited and natural methods of improving performance should be encouraged as part of a healthy lifestyle and diet.
Children are very easily influenced and can try too hard to satisfy their parents, teachers or even themselves. It is vital that a well-balanced lifestyle is offered to the child. Some degree of competitiveness and pressure can be a good thing, but too much can be equally as negative.
You might also like...