Dangers of Injecting Drugs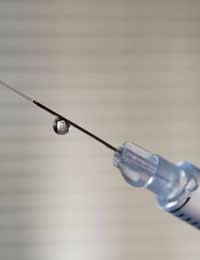 There are a vast number of dangers associated with injecting drugs and it is of utmost importance that the person injecting is aware of these so the prevention of diseases and illness can be taken into account.
HIV, Hepatitis and Other Lethal Illnesses
Most people are aware that there may be danger of these types of diseases being transmitted from person to person but they are usually associated with unprotected sex. Anyone who chooses injecting equipment such as needles is at risk. Even the tiniest amount of blood remaining on the needle can infect a person which may lead to a plethora of serious illnesses, some being fatal.
General Infection
It is also extremely important to remember to keep the tip and the shaft of the needle sterile and free from contamination. If any microbes or bacteria grow on the needle (and to some degree the syringe as the bacteria may grow up to the needle) the chances of getting an infection at the site of the insertion of the needle to the skin is at risk of developing an infection which if left untreated can become very painful and have the potential to develop into an abscess.
Risk of Abscesses
The risk of an abscess forming is not just limited to using a contaminated needle. It is also possible to find an abscess developing if the drugs that are injected are not given in the recommended dosages or given at different sites. Sometimes the drug itself may be too strong for the tissues to cope with and they can begin to breakdown as they try to absorb the drug. Frequent rotation of injection sites will help to prevent this.
Disposal of Injecting Equipment
Sometimes not the most obvious concern to the user is the issues surrounding needle disposal. It is not uncommon to find the odd needle and syringe discarded on the floor but this is a very worrying factor indeed. The chances of someone falling onto the needle and being at risk of infection may seem small but is still a potential risk. More worryingly is the fact that children who are on the whole very unfamiliar with needles and syringes may find their curiosity causes them to try and pick the needle and syringe top up see what it is.
If you are injecting drugs please dispose of them safely. There are many needle exchange facilities in the UK that will allow you to return used syringes and pick up fresh ones to try and protect both the user and the general public from disease transmission.
If you do not have this facility near to you, your nearest hospital may be able to help, or try asking your GP what your options are.
There are so many potential risks from injecting drugs, both for the user and the public in general so it is important to user to be equipment sensible and also to know and understand the drug you are injecting.
Nurses, doctors and other health professionals are all trained in drug administration including the route of injection so why not ask one of them to show you how to do it in the safest way or where you can go to receive clean, uncontaminated equipment.
You might also like...