Insulin Use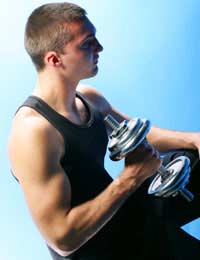 Occurring naturally in the body, insulin is being used by those wanting to build muscle or increase their stamina and can seriously damage health if used by those who do not need it for medical purposes.
What Is Insulin?
Insulin is a hormone excreted by the pancreas in reaction to food being consumed. The higher the level of sugar in the blood, the more insulin is produced to convert these sugars into glucose and glycogen, which can then be stored as energy supplies.In order for useable energy to enter a cell, the cell must have insulin bound to it which is permitted by the presence of insulin receptors on the cell. People with diabetes do not produce enough insulin to regulate their blood sugars so they must use injected insulin, tablets or control their diet to moderate their intake of sugars.
How Can It Help Improve Performance?
Using insulin can help body builders achieve a greater degree of muscle mass. Insulin is known for its qualities for maintaining and improving muscle mass as it is protein based. It is involved in several biological functions and cellular activity is responsible for the anabolic, or muscle building properties of insulin.It can also be used by those who participate in endurance races as, if taken with glucose can provide energy for longer periods of time which is needed to supply the muscles. For example if a person consumes a diet rich in products that elevate blood sugar, such as carbohydrates and proteins which are high in nutrients, then use insulin, the body is forced to use this insulin to turn the blood sugars into useable energy which is then pushed into the muscles and can be relied on for additional energy supply.
Dangers Of Incorrect Insulin Usage.
The biggest damage of using insulin is the risk of becoming hypoglycaemic. This means the blood sugar level drops below a safe amount. The results of this could be fatal as the body requires a certain level of blood sugars to function effectively and supply energy and oxygen to the brain.Other dangers include the risk of infection from incorrect use and disposal of needles and equipment. Many clinics offer needles and methods of safe disposal that users can visit.Anyone using insulin to enhance their performance should be highly educated about the risks and not simply be tempted to use because they are only informed of its potential to build muscle.Those who take insulin regularly and are not diabetic risk increasing the chances of developing diabetes as the pancreas is thought to be more likely to stop producing its own supply when supplements are used.
Is It Legal?
The use of insulin is legal for those who require it for legitimate medical conditions.Its use for those without diabetes in banned by the leading governing bodies of high level sport as it provides an unfair advantage between competitors and is also very dangerous to health.As it is difficult to detect as a supplement, it can seem like an easy option for struggling athletes and body builders, however those who are found to be using as a supplement face punishment from governing bodies and also risk their public profile and fan base.
You might also like...