Thermogenic Compounds and Fat Loss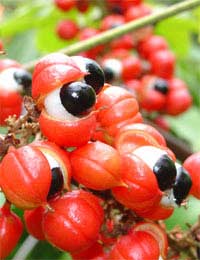 Thermogenic compounds are products that are supposed to help us lose fat by altering the rate of our metabolism. These products are marketed aggressively, both online and in health and sports nutrition stores, as an easy way to cut corners and get in shape quickly.
Thermogenic compounds, usually sold in pill form, work by promoting thermogenesis - the process by which your body creates heat. The creation of heat is a function of our metabolism - the way our bodies break down food in order to keep us alive. Raising your core body temperature elevates your metabolic rate, which burns energy, which can in theory lead to weight loss.
Brown and White Fat Cells
You might have heard people talk about "good" fat and "bad" fat cells. Usually when people talk about "good" fat cells in the body, they are referring to brown adipose tissue, the function of which is to create heat within the body.
The theory of thermogenic compounds is that they help to stimulate these brown fat cells into releasing energy from white fat cells, which contain calories. Therefore they are said to "burn fat".
Ingredients of Thermogenic Products
Traditionally these products have contained three basic chemicals: ephedrine, caffeine, and aspirin. Ephedrine usually comes from a plant called Ma Huang, from the ephedra genus of plants. Caffeine for these products is usually derived from the guaraná plant, and aspirin, or salicylic acid, comes from willow bark. In the marketing of these products, the names of these "natural sources" are often substituted for the names of their derivative chemicals, in an attempt to make them seem healthier.
There is evidence to suggest that this combination of ephedrine, caffeine and aspirin (the "ECA stack) can indeed burn fat. However, ephedrine can be harmful. Whilst, as a stimulant, it can be used to treat certain medical conditions, it has also been found, in some rare cases, to cause strokes and heart attacks. Ephedrine can also cause a range of other problems such as nausea, dizziness, insomnia and high blood pressure. Owing to its harmful potential, ephedrine is a controlled substance both in the UK and the United States, which means that whilst it is not illegal, its sale and use is carefully restricted.
As a result, many thermogenic compounds have now gone "ephedrine free". This new generation of thermogenic compounds make the same claims as the old, simply substituting ephedrine for other substances. One such substance is hydroxycitric acid (HCA), which some clinical trials have found to be effective in promoting fat loss. However, as other studies have contradicted these trials, finding instead that HCA's impact on fat loss is limited, the research is far from conclusive.
The Bottom Line
With such a broad range of ephedrine and ephedrine-free products available both online and in stores, the best advice of all is: Be cautious. Know and understand what chemicals you are considering putting in your body.
Ephedrine-based products might be effective fat burners, but they are potentially lethal. And for those with medical conditions, or those who are pregnant, they are absolutely out of the question.
Ephedrine-free products might be safer, but are likely to contain a range of other chemicals that aren't as well-tested as ephedrine. Additionally, there is little conclusive evidence to back up their effectiveness.
Remember: For burning fat there is still no effective substitute for a good diet and regular exercise. Indeed, the guidelines for most of the thermogenic compounds out there highlight the fact that they are intended to complement fitness regimes – not replace them.
You might also like...