Sleep and Athletic Performance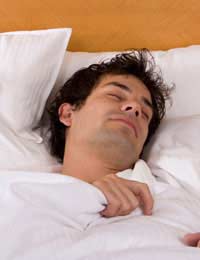 Everyone knows that to improve your overall fitness and performance, training and diet must be optimal. But people often overlook the third, equally important component in the athlete's regime: rest. And of course, the most vital component of rest, is sleep.
We all know how a lack of sleep makes us feel – and that a good night's sleep can leave us feeling physically and mentally prepared for anything. But good sleep can give us more than just that feel-good factor.
Sleep: The Ultimate Performance Supplement
In most fitness and strength-related sports, the purpose of training is to "stress" our muscles into requiring further growth. This is why, in the days following a hard training session, our muscles feel sore: this damage is vital to ensure that those muscles become stronger.
Research on military personnel has shown that our different stages of sleep help us recover from training in different ways.
In deep sleep – which tends to occur during the first third of our sleeping cycle – metabolic processes occur that help the body to recover from training. Hormones that stimulate muscle growth are released during deep sleep, repairing and strengthening our muscles.
The other major stage of sleep, called rapid eye movement (REM) sleep, is thought to be vital for the brain, and for our physical coordination. This stage of sleep helps to consolidate memories, and to "hard wire" tasks, such as ball throwing.
In combination, these two stages of sleep provide the best performance-enhancing aid there is – one that is completely free, and entirely safe!
Getting Enough Sleep
The general guidelines for the ideal amount of sleep are between seven and nine hours for adults, and between eight to 11 hours for children and teens. You can find out how much sleep is ideal for you by experimenting with your sleep pattern. After a day's training, see how long it takes you to start dozing off. If it takes much less than 20 minutes, you're probably suffering from "sleep debt", and you need to get more sleep regularly. If it's much more, you might have been getting too much sleep. At around the 20 minute mark, you're probably getting the around the right amount of sleep per night.
After a few days, once you are consistently getting to sleep at around the 20 minute stage, make a note of what time you go to bed. Now see how much sleep it takes for you to wake up unaided – without an alarm (it's best to try this when you don't have work the next day!). Then, work out for how many hours you slept. Once you have this figure, you can plan your days around it, making sure you get to bed early enough to ensure the optimum number of hours' sleep.
The Beneficial Circle
Another great thing about sleep and training is that they promote each other. Good sleep can lead to good training, and a good day's training can ensure a good night's sleep! In fact, athletes and those who get a lot of exercise tend to experience deeper, better quality sleep than those who tend not to do much physical activity. Research has shown that athletes can get to sleep more easily, and spend longer in the "deep sleep" stage.
So there it is: sleep really is the athlete's secret weapon. With the right amount of training and the right type of diet, sleep makes up the third corner of the "fitness triangle". If you can balance all three components of the triangle, you will be amazed at the results!
You might also like...