Cranberry Juice and Sexual Health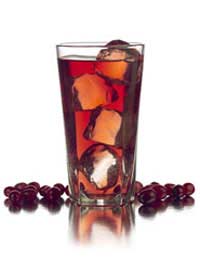 Cranberry juice has long been considered to have beneficial properties for our physical well-being. Far from being an "old wives' tale", though, research does suggest that cranberry really does possess these properties – and perhaps others that we are just beginning to understand.
Cranberry and Urinary Tract Infections
Urinary tract infections (UTIs), the most common being cystitis, tend to be bacterial infections of the urinary system. Lower UTIs affect the bladder and the urethra, whereas upper UTIs affect the kidneys and the ureters.
Women tend to be more prone to UTIs than men. Around half of all women will need to be treated for a UTI at some point in their life. It is unclear how and why UTIs happen, but some women find that they develop UTIs after sex. Basic hygiene is also an important factor: a dirty bath, for example, can harbour bacteria (a dark ring around the rim of the bath is a clear indication that it needs cleaning!).
The symptoms of UTIs tend to include a burning sensation during urination, urinating frequently, cloudy, sometimes bad-smelling urine, and pain in the lower abdomen or above the pubic bone.
Left untreated, UTIs can cause serious and long term damage to the kidneys, blood poisoning, and, amongst women, problems in pregnancy.
The most common treatment for UTIs is a course of antibiotics. However, at least four separate studies have concluded that cranberry juice can have the same effect in eliminating the bacteria that cause UTIs.
Researchers at Yale University in the US discovered that tannins, chemicals found within cranberry juice, have anti-adhesive properties. These tannins prevent bacteria sticking to the interior lining of the urinary tract. In test subjects, one large glass of cranberry juice was found to reduce the presence of E. coli bacteria (the most common cause of UTIs) by over 70 percent.
At present there are no clear guidelines on exactly how much cranberry juice one should consume to eliminate a UTI, but the general consensus is that around two to three glasses a day ought to be sufficient.
Other Properties of Cranberry Juice
Interestingly, the beneficial effects of cranberry juice do not stop there. Cranberries also contain large amounts of antioxidants, which are thought to have a number of benefits to the heart, the immune system, and could even help protect against cancers. These benefits, however, have yet to be proven conclusively in control trials.
Another chemical found within cranberry juice can, it is thought, help to prevent plaque, which can cause tooth decay. Similarly, there is also some evidence to suggest that cranberry juice can prevent kidney stones!
A Word of Warning
With all the proven and possible benefits of this "super food", it might be tempting to go and buy gallons of cranberry juice and consume it 24 hours a day. This is not advisable. Just as many of the benefits of cranberry juice are not fully understood, it might also be that there are negative effects to consuming it in huge amounts. Additionally, most cranberry juice preparations contain a considerable amount of sugar – something most of us are trying to cut down on!
As with all things, moderation is the best path to safeguarding your health. No more than three glasses of cranberry juice per day will be more than enough to ensure that you benefit from the properties of this amazing fruit.
You might also like...