Can My Medication Be Affecting My Performance?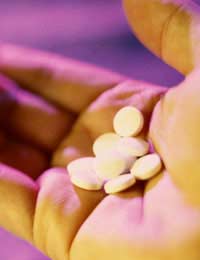 Q.
I had Mitral valve surgery six months ago and am taking Carvedilol, 2.5, and Ramipril, 2.5 twice a day.
I was and am trying to resume my training for mountain bike racing - extreme cardio, to say the least.
My legs have no strength. I'm having a hard time riding two days in a row. Am I just out of shape or are the drugs causing this? Are there alternatives? Can I be doing damage by trying to ride hard? I'm 50 and in very good physical shape - I was told that I'll be better than before.
(J.K, 26 January 2009)

A.
Hi there, well done for trying to maintain an active lifestyle despite your recent medical problems.
Although they are unusual, there are some joint and muscle related side-effects to the medications you are taking. Joint stiffness and muscular aching are not particularly common with either Carvedilol or Ramipril, but they have been mentioned in the evidence available.
Also mentioned in the evidence, was a small chance of feeling pain the toes (especially the big toe) and general tiredness and lethargy.Trying to get to the level of physical fitness that would enable to compete in mountain bike racing is quite an ambition and one that should be taken fairly slowly given your medical history.
My advice would be to enrol in a reputable gym who can offer the services of a qualified fitness instructor who will know the exact type of programme you should be following with a cardiac history and such ambitious physical goals.
Many of us would struggle to get on a bike and ride several miles everyday if we were not used to it and would need to build-up gradually making sure we took extra precaution to warm-up and warm-down before and after each cycling session and you should make sure you do the same.
It may simply be the case that your muscles are finding it hard to achieve the type of results you are looking for so quickly and need time to build their muscle mass; cycling is a very demanding event that you are probably well aware of.
Obviously any type of exercise is going to be good for your health, but you must make sure you do not overdo it. It is likely that with your previous heart problems, your health was not as good as it could be and you may be slightly out of shape also. This provides another reason for getting professional advice and an appropriate fitness regime as you don't want to put your new valve and cardiac muscle at risk again.
It may also be worth returning to your doctor with your concerns as he or she may be able to alter the dose or indeed the medication itself if your are experiencing other symptoms and side-effects too.
You might also like...